We can read your mind… Yes! You are looking for the Double Rainbow slot review, aren't you? Anyone who has seen the infamous Double Rainbow video on YouTube will understand the euphoric aspects that a double rainbow in the wild may provide.
The clip is so happy-making that it ranked ninth on The Ringer's Happiest Day on the Internet this Decade list. This slot is the moniker given to a new slot in Hacksaw Gaming's Pocketz Series a few years later.
We already knew Hacksaw Gaming was capable of making adorable slots, but with this game, they've really excelled themselves. It triggered lots of new conflicting thoughts and feelings. Come take a peek to see which side of the fence you're on.
Related Topic: Slot Game Tips For Beginners
Double Rainbow Slot Review: The Cutest Game
To begin with, subtlety is not one of Double Rainbow's strong points, as the game splatters glitter across the screen like a shotgun blast.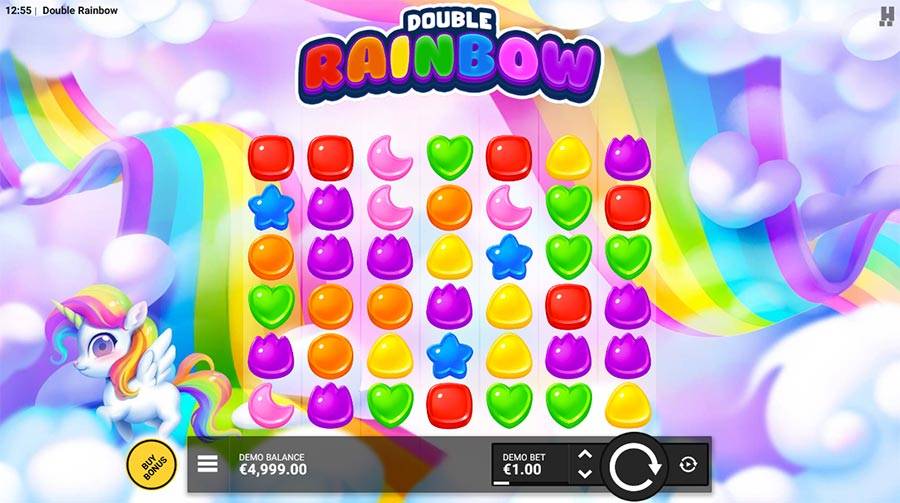 A 7-column, 6-row game grid framed by pastel-hued clouds, a rainbow-haired unicorn, rainbows, and candy-like symbols on the reels is nestled on a bed of clouds. It's either a fantastic picture or a cuteness overload that borders on babyish – we'll leave it up to the players to decide.
1. RTP and Volatility
The game's math model isn't quite as delicate, but it's also not one of Hacksaw's heavy hitters, with a 3 out of 5 volatility rating. RTP can range from 96.38% to 88.38%, depending on the jurisdiction, so it's worth double-checking before you start playing.
When one of the two bonus buy options is selected, the RTP changes, rising to 96.41% for buy option one and lowering to 96.27% for buy option two. Regular bets range from 10p to £/€100, and the game can be played on any device.
2. The Pay Symbols
Double Rainbow offers a cluster-pays mechanism that activates the cascades feature when winning clusters appear. When at least five matching symbols land in horizontally or vertically adjacent slots, a winning cluster is formed.
The regular pay symbols are replaced by seven candy-like things, all of which have the same value. A five-symbol cluster is worth 0.1x the wager, and clusters of 15 or more symbols are worth 50x the stake.
3. Slot Features
In this game, there are 7 Rainbow Reels, just like there are 7 main colors in a rainbow. When a Cloud symbol lands on a reel, it activates it and adds a Reel Multiplier to it.
One of the 7 symbol colors appears on Reel Multipliers. If a multiplier already exists on a reel, the new value is applied to it. Any winning cluster that is the same color as the multiplier is multiplied by the multiplier.
Multiplier Clouds
There are two sorts of cloud symbols in Double Rainbow. Normal clouds double their reel by x2, x3, x4, x5, x10, x15, x25, x50, x100, or x250. Normal Clouds also give you an extra spin with all of your activated reels still spinning.
Double Rainbow Clouds are the other type. These likewise multiply their reel by x2, x3, x4, x5, x10, x15, x25, x50, x100, or x250, but they also grant +3 more spins during which all activated reels remain active. Extra spins are available for no charge.
Full Rainbow
The Full Rainbow feature is activated if you manage to trigger all seven reels. All seven reel multipliers are multiplied by x2, x3, x4, x5, or x10 when this happens. Additionally, +5 extra spins are provided if all of the activated reels stay active.
Bonus Buy
Players can pick between two buy bonus options if this feature is available. The first is 1 Rainbow Spin, which provides at least 1 additional spin with three active reels and Reel Multipliers starting at x4.
This costs ten times the stake. The second is worth 50 times the stake and offers at least four extra spins with three active reels and Reel Multipliers starting at x4. If you are ready for playing this slot with real money, let's go to qqslot now!
Our Final Verdict
Imagine tripping in a toy store and landing face-first in a My Little Pony exhibit, and you've got a fairly good idea of what the slot experience is like. Is it too childish? Some will almost certainly say yes, and it's difficult to avoid that conclusion at times.
Candy slots are popular, but this game takes the concept to new levels. Sure, the Pocketz Series is all about Candy Crush-style games on the go, but this game can also be a little too childish at times.
While Nolimit City may have dominated the edgy, frightening part of the market, this slot delivers shock value from a different point of view. Finally, that is our Double Rainbow slot review only for you. 
Last but not least, we'd like to recommend you play some simple classic slots to get used to the slot pattern. Try Crazy Farm Race, Dubya Fruit Machine, and Bees Buzz slot machines if you like themed slot games.
Read More: 5 Eyecon Popular Slots to Play in 2022 (RTP 95-97%)